We love to decorate our home for the season with children's art.  This easy chalk pastel cross is simple enough for preschoolers, yet a piece of resurrection art you can be proud to hang on the wall.
Here is what you need:
painters tape
cardstock
chalk pastels
baby wipes or a wet rag (to keep the mess a minimum)
Start by making a cross about the middle of the paper with painters tape.
Draw a hill directly underneath the cross with dark green, then fill it in with light green.
Use various colors (my children always go for rainbow order) to draw small lines all around the border of the painter's tape. 
Next fill in the sky with your favorite shade of blue.
Here comes the most fun part…peeling off the tape!  Slowly take off of the tape to reveal the cross.
These turn out beautiful every time!
If you have never used chalk pastels before, I highly recommend them.  (This is coming from a mom who has NEVER bought sidewalk chalk.  My poor children never get to touch it because I just can't stand the mess.)  However,  I came across some great free tutorials, and decided to put my intense chalk aversion aside for the sake of cool art.  Now my children always come running when I announce the chalk pastels are coming out.  hehe  Would you like a FREE eBook, including lessons and tips to help you get started?  Head here to Getting Started at chalkpastel.com.
Would you like to try some more Resurrection chalk pastel art?  Both the Easter and Spring lessons are now on sale!  We have purchased some of their eBooks, and are looking forward to trying their video courses soon as well.  (These are affiliate links, which means if you purchase through them we may get a small percentage at NO cost to you.  Read our full disclosure here.  Thanks so much for supporting Spanglish Schoolhouse!)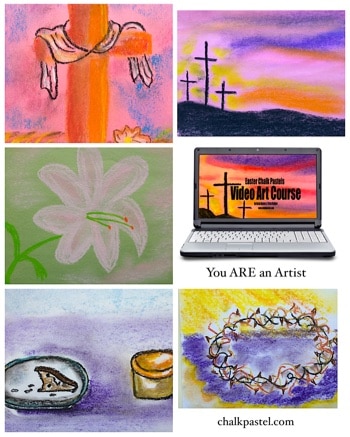 If you are looking for more Resurrection fun, check out our DIY Resurrection Eggs or Resurrection Lapbook full of free printables.