Choosing a reading curriculum was not a flippant choice for me. In this All About Reading Review, I'm going to explain why we decided on this program to teach reading in English in our Bilingual Homeschool.
(This post contains affiliate links, which means if you purchase through them we may get a small percentage at NO cost to you. Read our full disclosure here. Thanks so much for supporting Spanglish Schoolhouse!)
If you are new to Spanglish Schoolhouse, you might not know that I have been teaching Preschool or Kindergarten for the past 2 decades! I've had the privilege of teaching hundreds of children to sound out their first words, but not without some moments of panic. Let me explain.
Why "All About Reading"
When I first began teaching Kindergarten, being responsible to teach children how to read is what scared me the most. How in the world was I going to get this group of children from various backgrounds, some who have never spoken a word in the target language, to being "readers" at the end of the year? Despite all of my "teacher training" in school, this process just seemed so mysterious.
Thankfully, the administration was very supportive. I was given permission to use the materials and curriculum that I wanted, which sent me on a quest to find the best. No pressure. hehe Also, no blaming anything on "poor choice of curriculum."
I found some resources were great for teaching letter and sound recognition, but had nothing in the area of phonemic awareness. I discovered a great way to teach sight words, but had to create my own sequence to introduce them. It was like a patchwork quilt, and I spent hours creating and testing scope and sequences to weave it all together.
By the time I switched from classroom teaching to homeschooling, I had multiple binders of precious patchworked resources. I was the only one that knew how to piece it together to make it work, and my expertise came to a halt at the end of Kindergarten.
As a homeschooling mom, I was going to be responsible for teaching my children how to read completely! I wasn't just going to rev their engines, and send them on to first grade like before. That idea made me panic, so I started researching "Homeschool Reading Curriculums." In my mind, if I didn't have a plan for teaching reading, I couldn't commit to homeschooling!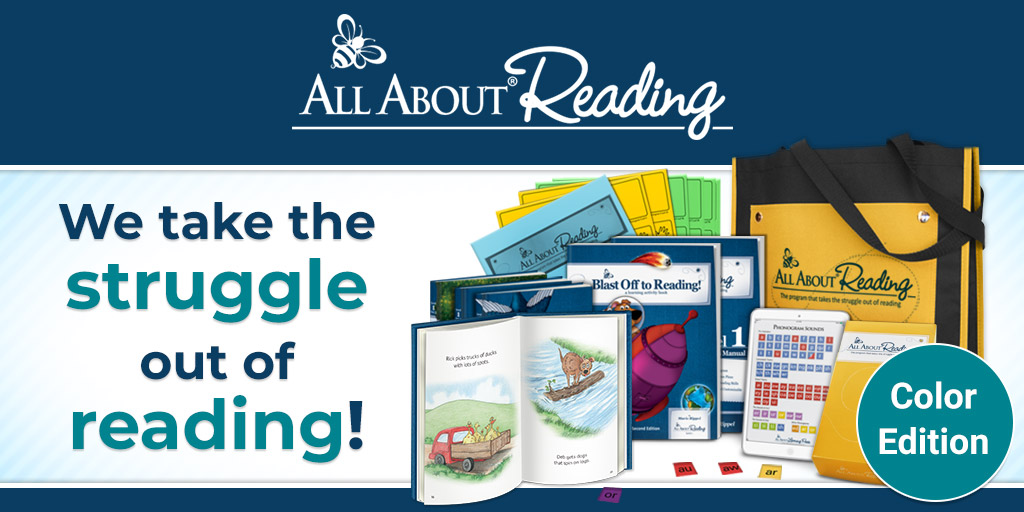 That's when I first discovered All About Reading. I downloaded their scope and sequence, and took it to the most respected first grade teachers and Reading Specialists in my area. (In other words, these are people I personally know who have been very successful at teaching children how to read for many years.) Their votes were unanimous that this was a developmentally appropriate, and solid sequence for teaching children to read.
Things I love about All About Reading
It's lightly scripted. – Scripted meaning the "script" or what the teacher is supposed to say is written out for you. Wait!! Don't run away screaming. Normally, I despise scripted programs. However, in this case, it is actually really nice because the script is written well. (What a concept, right? hehe) The lessons follow a fairly predictable routine, so once you get the hang of the sequence and language, you don't have to be glued to the book. I usually keep it open in front of me mostly because the way they explain new concepts are usually precise, yet creative.
The program is very flexible. – It gives you different ways to reach the same end. One child of mine LOVES the letter tiles, and wants to use them for everything. She would happily play any of the games repeatedly, mostly because of the adorable illustrations and the kinesthetic aspect of moving something around. She loves to read the stories in books, but did not like the review sheets. The other child could care less about the letter tiles and games, and instead found satisfaction in plowing through review sheets to get to the stories. Two children from the same DNA, two completely different strengths, weaknesses, and approaches to reading. All About Reading encourages you follow your child's lead, and tailor the program to fit their particular needs. There is enough variety in each lesson, that it was easy to do without having to create extra materials myself.
There are no gaps. – It's a bold statement, I know. The way they set the program up to build upon concepts, master a lesson before moving to the next, and to continually review with the word cards, really do make for a sound program. I don't have to go looking for anything to supplement, and that is priceless.
My children love it! – When I call them for reading, they come running. They know it is a quick chunk of time that they have my full attention. They know what to expect from the program's routine, yet don't get bored because of the different variation of activities. The stories are engaging for both boys and girls, and the illustrations are lovely. Each level of All About Reading has a theme-related progress chart they enjoy putting stickers on. Having a visual of where you are, and where you're going is motivating for children of all ages.
I don't have to think. – As a homeschool mom of many, my brainpower is precious. All I need to do is glance over the lesson plans right before I call my child over. Even when done first thing in the morning, reading brings me zero stress. I love that one of the most important subjects I teach my children is so easy now.
Challenges with All About Reading
The price – All About Reading was a big investment for us at the time, but they have a "Try it for an entire year" guarantee if you buy directly from their website. Knowing that I could test it out for the whole school year, and get a refund if it didn't fit our needs, was definitely a sweet deal. Looking back, it has been completely worth it! Having an effective reading program I can trust, and all the time and energy saved from trying to piece together my own "best" reading curriculum is priceless.
The Letter Tiles – Now that my children are older, it is not a problem. However, trying to do reading lessons with twins babies and a VERY busy toddler was challenging. As you can see from the colorful magnetic tiles on the picture below, that would be very tempting for littles. During that phase, we kept our school room locked, and usually scheduled reading and spelling during naptime. Now, they have released a letter tile app! We are really enjoying it for spelling lessons anywhere in the house, but we'll test drive it for reading in the fall. If you have a house of littles, the app might be the way to go.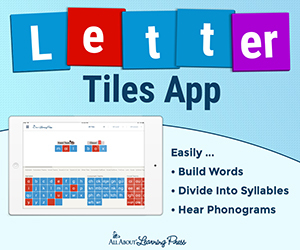 Lessons are not independent – If you are looking for a way to just give your child a worksheet and calling reading good for the day, this is not the program for you! Based on the best practices for teaching reading, I would be very suspicious of that method anyway. I am continually amazed at how much progress children can make with short consistent reading lessons that are tailored specifically to their level. Although I use All About Reading one-on-one with my children (and have five of them) I still find it the best use of my time for teaching my children how to read in a fun and effective way.
What do we think about All About Reading now?
Fast forward 7 years, and I'm an even more in love! 🥰
The wonderful team at All About Learning Press continue to make an excellent program even better with every revision.
We have officially graduated two children from the All About Reading program!! This means they completed Levels 1-4, and have all the skills necessary to decode just about any English word.

Coming up:
I've had many questions about how I organize our All About Reading supplies. Look for a video on that soon.
Do you have any questions about All About Reading? Ask away in the comments!